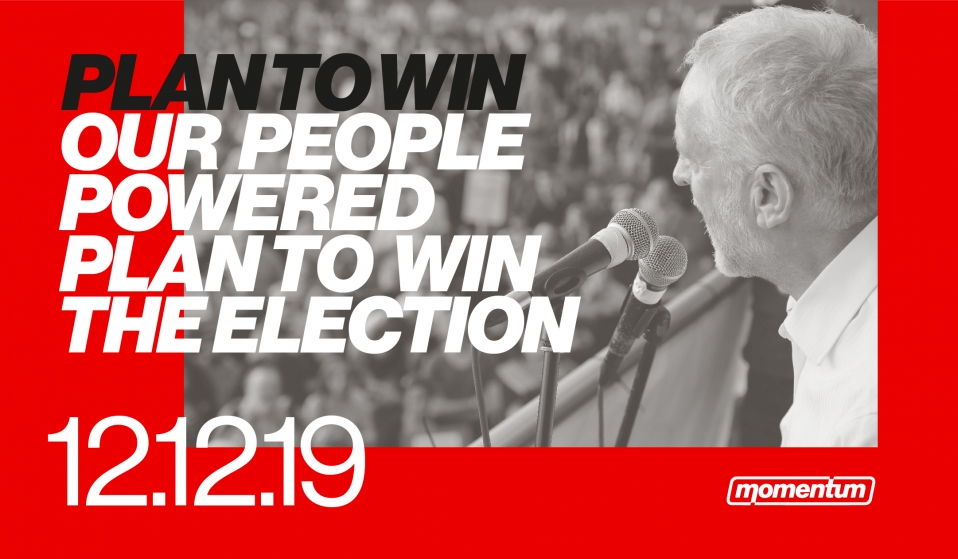 This document outlines Momentum's plan to win the 2019 general election for Labour. There's lots of important information you need to know, so please keep reading to the end!
The next six weeks are the most important weeks of our lives. After years of hard work knocking on doors, phone banking and campaigning - it all comes down to this. It's either socialism with Jeremy Corbyn, or disaster capitalism with Boris Johnson - and now it's down to us. We have a once in a lifetime opportunity to transform our country, but we face the very real and terrible possibility that Johnson will destroy it. It's him or us, and this is our chance to change the course of history. We can only do it together.
At the last election in 2017, we knocked on over a million doors and made hundreds of thousands of phone calls to voters in marginal constituencies across the country. We swung key constituencies for Labour, and deprived Theresa May of her majority in parliament. Our people-powered campaign was unprecedented, and we caused the biggest electoral upset in British modern history. We defied the media, the money, the polls, and all expectations. Now we need to do it again - and this time we need to win.
The Tories are raking in tens of millions from hedge funds and bankers - but we can beat them with people power. You are Labour's secret weapon - and we need you to step up and go big. We need every single one of us to get out on the doorstep, organise local events and make big sacrifices to win. This is the chance of a lifetime, and we need you to give all you can. Here's how we're going to win.
There are three key parts to our strategy.
1. We need to build people power.
For Labour to win this election, we're going to need people power. Boris Johnson's campaign strategy relies on having millionaires and the media on his side. We have hundreds of thousands of people across the country inspired by Labour's vision for transforming the country, ready to make small donations and volunteer huge amounts of time to our campaign. People-power can beat millionaires and the media - and it's up to us to prove it.
We showed this in 2017. Our movement knocked on over a million doors and made hundreds of thousands of phone calls to voters in across the country - and it worked. We won the biggest increase in vote share since 1945 and deprived the Tories of their majority in parliament, defying the media, the polls, and all expectations. Now we need to do it again - and this time we need to win.
But this time we don't just need to knock on doors - we need to organise in all the ways we can. We need to organise hundreds of phone bank parties. We need to organise hundreds of voter registration events. We need to build huge online volunteer teams. We need to put on hundreds of trainings for new activists. We need to raise hundreds of thousands of pounds of small donations - and so much more. We need to use every tool at our disposal - and we need to make the best use of the huge amount of talent and hard work in our movement.
We can only do this together, and every one of us will need to make big sacrifices to win. This is the chance of a lifetime, and we need you to give all you can.
2. We need to target marginals.
We must be strategic about where we focus our campaigning. There are a number of seats across the country that were won and lost at the last election by just a few thousand voters - and 11 seats were won by fewer than a hundred. These are what we call marginal seats, and it's in these constituencies - like Chingford and Woodford Green, Mansfield and Southampton Itchen - that the election will be won or lost. This is where we need to focus our firepower - on marginal seats we're likely to win from the Tories and seats that Labour is defending.
In the 2017 general election, Momentum focused our firepower on a number of key marginals including Battersea, Brighton Kemptown and Crewe & Nantwich - and we won them from the Tories. Now we need to do this again - and on a much, much bigger scale.
Tory donors are planning to pour millions into marginal seats at this election - but we can beat them if we campaign strategically. The best way to persuade people to vote Labour is through face to face conversations. We've calculated that in the 150 most marginal constituencies in the country, there are around 2 million target doors that we'll need to knock on over the six week election period. The number of doors a person can knock in a day varies depending on a number of factors, but we estimate that on average a person can knock on 50 doors a day. This means we need over 5,000 people to do 8 full days of door knocking over the election period in order for us to win.
This might sound like a lot, but there's no doubt that together we can do it. At the last election we flooded marginal constituencies on polling day, swinging key seats for Labour and defying the polls. In the recent Peterborough by-election we got 1000 people knocking on doors for Labour - and won the seat against all the odds.
Now we need to do it again, except unlike in 2017, we won't be asking activists to go to their nearest marginals. This time our campaign will be much more data driven, and we'll be mobilising activists to go to the marginals that need them most. Where activists are most needed will be calculated based on a number of factors that will include where they are in the country and what marginals are in their area, but also how many doors have been knocked on and how many activists have turned out already. We're going to be smarter than ever before.
At the last election we asked people to canvass, take the day off on polling day and phone bank for Labour. This was very effective for swinging key marginal constituencies, but in this election we're going to ask you to step up and go bigger.
This time we're going to be taking a volunteer-driven approach to our campaigning called 'distributed organising', based on the experiences of the Bernie Sanders campaign in the US. This means we're going to ask you to step up and become organisers, dedicate significant time and resources to campaigning, and run some of the most important parts of our election operation.
Over the past few weeks, we've been building the systems and infrastructure we need so that hundreds of you can step up during this election. We need you to organise carpools to marginal constituencies. We need you to organise phone bank parties from your living room. We need you to organise voter registration street stalls in your community. We need you to run huge online volunteer teams. We need you to run trainings for first-time activists - and so much more.
This time around, you are Labour's secret weapon. It's only by stepping up your commitment that we'll win.
By clicking above you are consenting to receive communications about Momentum's campaigns, campaigns we support, and how you can support and be part of them. For more information please see our privacy policy.
Launch 'My Campaign Map'. In 2017 we launched a digital map to help activists find their nearest marginal seats. This election we'll be relaunching an upgraded map to help you find the marginal seat that needs you most. Alongside canvassing sessions, the map will host phone bank parties, street stalls, campaign HQs, rallies, socials and campus events, and you will be able to upload your own events. We'll also send you event RSVPs and the contact details of attendees so you can plan local events more effectively, as well as promote local canvassing groups on Facebook and WhatsApp.
Run phone bank parties. In the last election most campaigning was directed through CLPs, with a small amount of self-organised action happening through networks on social media. This election we will provide you with resources, training and promotion so you are able to organise your own events. The main event we'll be encouraging those outside of marginals to organise will be phone bank parties, where you can meet up and call voters in marginals using Labour's calling app.
Register thousands to vote. When lots of people turn out to vote, the Tories don't do well at the polls. In this election we'll be running a huge voter registration campaign, including launching univotes.co.uk, offering one-on-one support to help you organise your own local voter registration events, targeting thousands of people in marginals with Facebook advertising, and flooding marginal constituencies with flyers, posters and stickers.
Reach millions with viral videos. In 2017 we managed to reach one in three Facebook users with our video content with three video staff. At this election we plan to scale up our video operation, including hiring more staff, launching a viral video response unit to reach millions in marginal constituencies, and ramping up Facebook advertising to target specific messages at voters in key marginals. We'll also be launching 'Videos for the Many' - a network to support you and hundreds of others create your own viral video content.
Build online volunteer teams. Those of you with caring responsibilities, disabilities or long work schedules often can't get out on the doorstep. This election Momentum will set up online volunteer teams so you can work with others to help fulfil core campaign functions. We've already set up a research, data entry and calling team, with a texting and clipping team scheduled to be launched in the first week of the campaign.
Launch digital and creative networks. Last election independent digital and creative projects made a large media impact and a potentially significant electoral impact. This election we're going to launch digital and creative networks and organise designers, developers and creatives to build and amplify independent digital and creative projects that will help Labour win.
Build a Digital Army. Setting the agenda on social media is a key part of setting the news agenda. We've created a Digital Army with thousands of you so together we can use our social media accounts to amplify key content and make big political moments go viral.
Train thousands of activists. Canvassing training for new activists was a big thing for Momentum at the last election. This time we'll scale up our training network and offer online training so we can get more of you campaigning than ever before. We'll also create educational resources and talking points around the manifesto to give you more confidence in having persuasive conversations on the doorstep.
Run campus tours. Students had a huge impact in the last election in marginals such as Canterbury. This election we'll support and work closely with youth groups, run mobilising events on university campuses and further education colleges and register young voters in marginal constituencies.
Recruit core activists. This election we want you to step up and contribute large amounts of time to the campaign. We'll be running a campaign to recruit those of you who can give at least a week to the campaign full time and then support you to make the largest impact, either volunteering with Momentum, the party or in a marginal.
Publish an open strategy. Over the election we'll regularly update you about our campaign strategy, how the campaign is going and new campaigning priorities. We'll be doing this by sending you briefings via email, running weekly public conference calls and updating our plan to win.
What you need to do right now.
If we're going to win this election, we need to get going right away. There are three things we need you to do right now.
Sign up to our email list. In order to help you campaign most effectively throughout the election period, we need you to sign up to our email list. If you aren't already, sign up to our email list now.
Book time off work. This election, we need you to step up and commit significant amounts of time to campaigning. This means booking as much time as you can off work between now and polling day. We'll have a big announcement about how this is going to work soon, but for now make sure you've booked as much time off as possible - particularly in the last two weeks before polling day, when campaigning is most important.
This is the most important election of a generation, and we have a huge opportunity to transform this country. We have a plan to win - but can't do it without you.
Watch our strategy call on the plan to win, ft. Jeremy Corbyn and Ash Sarkar